Charts are composed of various elements such as chart areas, series, legends, titles, axes, walls, etc. that are illustrated by the following image: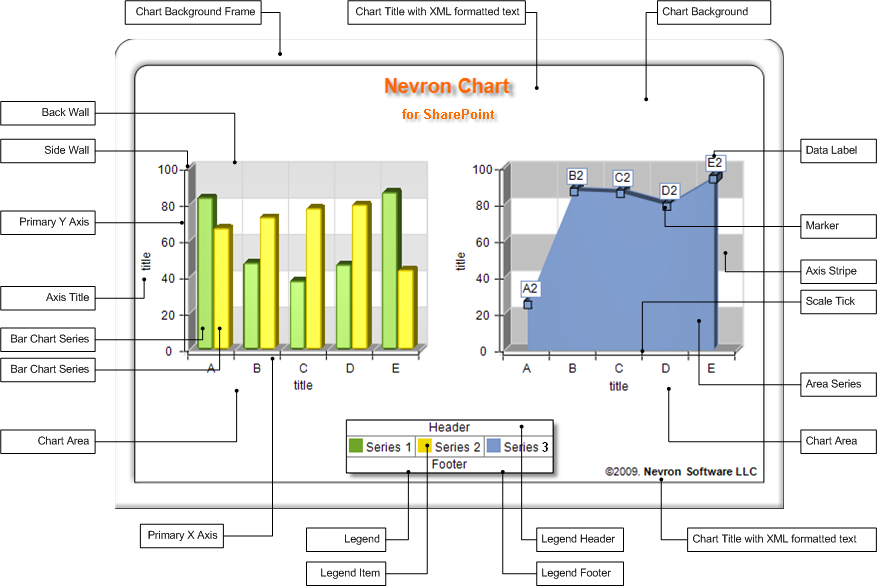 There is a certain hierarchy associated with chart elements - i.e. some chart elements are contained in other chart elements - for example the chart walls and axes are parts of each charting area, the legend header and footer are parts of the legend etc. There are three root elements that define the overall chart layout - Chart Areas, Legends and Titles (see Chart Panels for more info).
A Charting Type is associated with each charting area. The charting type defines the geometrical figures and logic that is used to display a collection of values - in charting terminology called Series. In the image above you can see three series - Series 1 and Series 2 are plotted on the first chart area as a cluster bar chart, and Series 3 are plotted on the second chart area as an area chart. All three series are annotated on a single legend.
It is important to know that a series contains a set of data points that are extracted from your data. A data point can contain multiple values - in the example above Series 1 and Series 2 (bars) need only 1 value for each data point to be displayed, but Series 2 (area) needs two values - a numeric value for the data point elevation and a string value for the data point label.