Nevron Gauge for SharePoint treats gauge areas and titles as panels. Panels use a box model, which is summarized by the following drawing: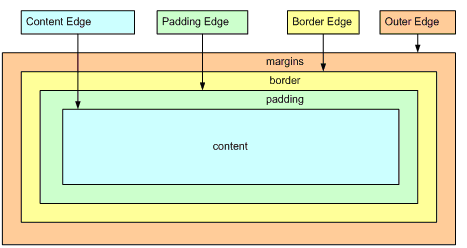 Each panel has margins and padding. The margins define a white space around each panel. The padding defines the space with which the panel content is padded (inflated). The margins and padding settings can be inherited from the gauge default margins and padding settings, if the respective Automatic property is set to true.
By default the Automatic property for the margins and padding of all panels is set to true and the actual margins and padding are obtained from the gauge control default margins and padding. You can modify the default margins and padding from the Gauge > Layout tab. The margins and padding of each panel are accessible from the Layout tab for that panel.
In general the layout algorithm described below uses a combination of docking and absolute positioning. When a panel is docked both it margins and padding are taken into account to display the content at its best size. When a panel is manually positioned the margins are ignored, since they are not needed (margins define a white space, which only automatic layouts should consider).